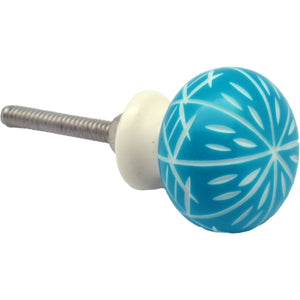 Nicola Spring Vintage Round Resin Door Knob - Turquoise
Description
Bring some vintage chic and vibrant colour to your cupboard doors and drawers with this Turquoise Resin Door Knob from Nicola Spring.
Hard wearing and durable, the 35mm diameter of this piece makes it the perfect size for all manner of kitchen cupboards, dresser drawers, bathroom cabinets and other household storage units.
Each knob is easy to install - simply feed the 30 x 4mm thread through and use the included nut to fix into place.
WIth a huge variety of shapes, sizes, styles and colours available, the Nicola Spring range of Vintage Round Resin Door Knobs is sure to suit whatever your vision of home may be.
---
Features
Small Door / Drawer Knob - Suitable for cabinets, cupboards and other storage units
Ornate Carved Floral Decoration - Perfect for vintage, art deco and bohemian decor
Easy to Install - Single securing nut provided
Dimensions
Diameter: 35mm
Thread Length: 30mm
Thread Diameter: 4mm