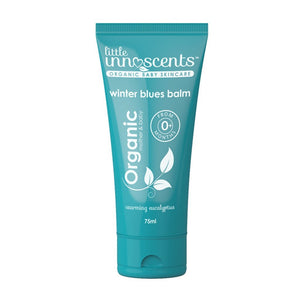 Little Innoscents Winter Blues Balm 75ml
Time to throw out the greasy salve lurking in your bathroom cabinet and say hello to the Little Innoscents Winter Blues Balm Vapour Rub.
100% natural and safe-for-babies its a healthy alternative to greasy petrolatum based remedies picked up from the supermarket shelf.
Made with medicinal essential oils of Wintergreen and Eucalyptus in a fresh balmy base, it brings warmth to the body and helps your baby to breathe by alleviating nasal congestion so you can get rid of that stuffy little nose!
As an added bonus it's low allergen and safe for bubs with sensitive skin


Little Innoscents products are Australian made with 100% Natural, Pure and Organic ingredients. Completely free from Toxic Chemicals, Parabens and all other little hidden nasties.
Our naturally pure and organic baby skincare products are based on aromatherapy ingredients which means they can used on delicate and sensitive skin and provide essential skincare for babies and infants. All of our baby skincare products can be used to relieve young ones from rashes including eczema, psoriasis, cradle cap, nappy rash and more!
Ingredients:
Sunflower Oil (Helianthus annuus)*, Shea Butter (Butyrospermum parkii)*, Beeswax (Cera alba)*, Avocado Oil (Persea gratissima Oil)*, Spearmint Oil (Mentha viridis)*, Wintergreen Oil (Gaultheria procumbens), Lemon Oil (Citrus medica limonum), Lavender Oil (Lavandula angustifolia), Rosemary Oil (Rosmarinus officinalis), Eucalyptus Oil (Eucalyptus globulus), Peppermint Oil (Mentha piperita).
*Denotes Certified Organic