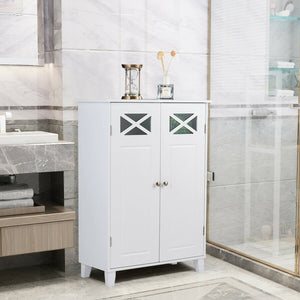 Free Standing Storage Bathroom Cabinet Double Doors Wooden Organizer
This bathroom storage cabinet with three shelves offers you plenty of storage space.
When you need more storage space in your home, consider adding our lovely storage organizer. It made of durable engineered MDF and painted with non-toxic lacquered surface, this cabinet is high-quality with water resistant and can service you long time. Painted white, the cabinet looks elegant and attractive so that it serves not only as a piece of furniture, but also as a decoration in the home, which allows you use it in the bathroom, kitchen, entryway or bedroom. Combining the charm of both classic and contemporary furniture styles, your everyday essentials can have their home in this gorgeous cabinet.
If you are looking for a bathroom storage cabinet,don't hesitate and add this functional piece of furniture to your home right now!
Made of engineered MDF and water-resistance lacquered surface
Durable, high quality and sturdy construction can serve you for long time
Coated with smooth white paint, this cabinet prevents mildew and is easy to care
Upper two shelves can bear up to 11 lbs, the bottom shelf to 33 lbs
Three shelves with adjustable heights provides you a lot of storage space
Practical top to put the table lamps, photo frame, some green plants and other things
Suitable for variety of rooms not only bathroom but kitchen, bedroom or entryway
Assembly instruction included to easily put together


Color: White
Material: MDF
Product dimensions: 24" x 12" x 34" (L x W x H)
Net weight: 30 lbs
Package includes:
1 x Bathroom cabinet
1 x Instruction