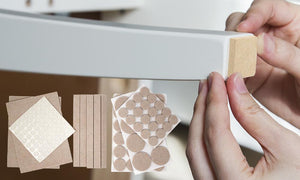 124pcs Floor Protectors
The felt pads for furniture feet are perfect as floor protector for all floors.
Strong Adhesive which keep them on the furniture feet
Floor protectors are perfect for any type of chair legs, furniture feet and other home & office furniture. It's very easy to stick our felt furniture pads to any furniture feet.
For total protect furniture surfaces in your home we made largest variety of sizes for all items in Your home. Includes 60x felt pads that are 5mm thick- great for furniture legs.
Also includes 64 gel bumper pads which will protect and dampen harsh sounds of slamming kitchen & bathroom cabinet
For Your individual needs we have piece of felt which You can cut to any shapes and sizes:
(6x) 15*1.9cm
(2x) 11*15cm
(20) 2cm (round)
(8) 3.8cm (round)
(24) 2.5cm (round)
(64) 1cm (round gel)